Amazon Quiz 16 June Answers: Hey Guys welcome back to Tricks Nation, and In this Article, I'm Going to share Today's Amazon Quiz Contest Answers if you are searching for Amazon Quiz Answers 16 June 2019 then you are in the right place.
If you are a Daily Amazon Quiz Player, then this post helps you because here I will give you all amazon quiz answers on daily bases I will update this post every day with Correct Amazon Quiz Answers.
Don't forget to Bookmark this page for Todays Amazon Quiz Answers or you can also Remember our website name its name is TricksNation.com you can find it on google, or you can visit by typing URL in your browser.
Amazon Quiz 16 June 2019

 

Answers
Now I'm going to share Todays Amazon Quiz Contest Answers. In Todays Contest 1 Lucky Players can win apple watch  if you want to be one of them then participate in this quiz. This will take only 5 minutes.
Q1 – Who Developed The Theory Of Evolution In The Famous Book 'On The Origin Of Species'?
Ans –

 Charles Darwin
Q2 – Long Before Google, There Have Been Other Search Engines On The Internet. But Which One Was The First?

Ans – 

Archie
Q3 – Vicky Kaushal Released The First Look Of A New Film (His First Horror Movie) Called 'Bhoot: Part One – The Haunted Ship'. Who Plays The Female Lead In The Film?
Ans – 

Bhumi Pednekar
Q4 – The 2019 FIFA Women's World Cup Started Its Eighth Edition On 7th June. Which Country Is Hosting The Tournament This Year?
Ans –

 France
Q5 – The Last Film That Satyajit Ray Directed Before He Passed, Was Based On One Of His Own Short Stories, Atithi. What Was The Film Called?
Ans – 

Agantuk
---
How To Participate & Play Amazon Quiz
You don't need to pay single rupees to join this contest is completely free. If you want to Participate in the Amazon QuizTime Contest, then follow the below step by step procedure.
Step 1: first of all, you need to download and Install Amazon Application in your Smartphone.
Step 2: After that, you need to Login in Amazon app if you don't have Amazon account then you can sign up for a new account it's also completely free.
Step 3: Now Click on the below "Play Amazon Quiz" button from 8 AM to 12 PM.
Step 4: Now, you will be redirected on the Amazon App. Here you need to click on the "Play Now" Button.
Step 5: Now, you will be redirected on another page where you need to click on the Start Button. After clicking on that, you will see Few questions for available this contest answer all Questions.
Step 6: After answering all questions correctly, you don't need to do anything if you are chosen as a Winner, then you will be notified by email.
What Is Amazon Quiz Contest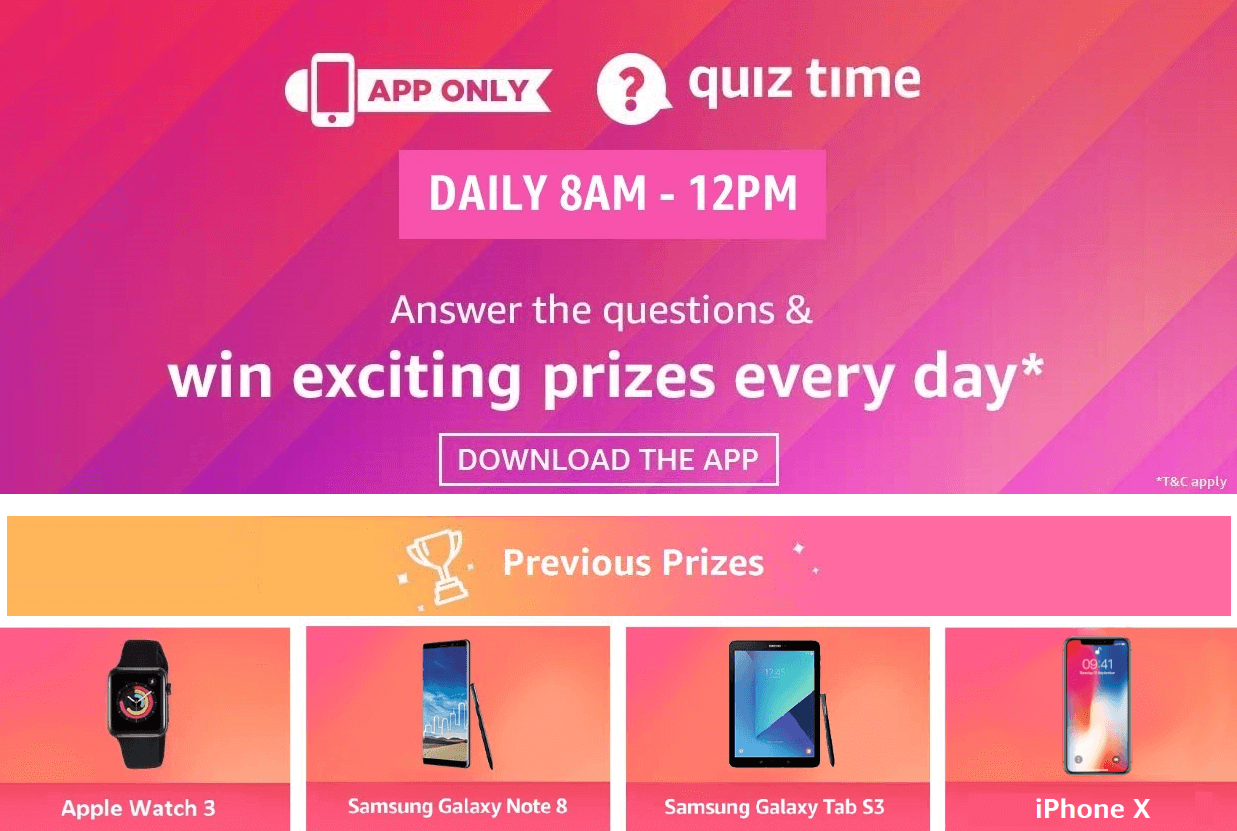 Amazon quiz is a Question & Answer Contest this was organized officially by Amazon India in this contest you will get Daily 5 Question you need to answers all Questions correctly, and if you gave right answers of all question then you will get a chance to win some exciting prizes by Amazon, Only 1-5 Lucky Players won this contest.
Many players gave correct answers, but everyone not won price because it's not possible to give everyone free prizes daily. That's why only 1-5 lucky persons can get the award its depends on your luck.
This contest daily organized every day at 8 AM to 12 PM (India Standard Time), and on Indian Festivals you will get a new, different competition with bigger winning prizes. Every Indian citizen can Participate in this all you need only Amazon app you can't play this contest on your Desktop because it's App Only Contest. If you want to play Amazon Quiz, then you must need a Smartphone.
Amazon QuizTime Contest Details
Quiz Name – Amazon Daily QuizTime
Winning Prize – Different Every day
Quiz Time – 8 AM to 12 PM
Quiz Date – Every Day
Winners Announcement – At the end of Month
Every day you will get Different prizes on Amazon Daily Quiz Contest and also Quiz name is different every day, but timing is the same for all day. Amazon Quiz Contest will start on Morning 8 AM and Closed at noon the same day. You need to answer all question between this period, and the final winner list will be declared at the end of the month.
Amazon Quiz Contest Winner List – January 2019
If you are looking for the Amazon Quiz Winner List, then you can see this in below table. This list was January Winner list if you participated in the January Quiz then maybe your name also available in this list.
Date
Prize
Name
Phone
1-Jan
Bose Companion 50
Shreeyansh
+9170601*****
2-Jan
Oppo Rl7 Pro
Chaitanya
+918143 1*****
3-Jan
Honor Band 4
Nilesh Gaud
+9180954*****
4-Jan
Rs.25,000 Amazon Pay balance
Sadhana Jain
Devinkumar
+9189891*****
+9163555*****
5-Jan
Bose Quiet Comfort Headphones
Vishal Jasoria
+9198290*****
6-Jan
OnePlus 6T
Siobhan Bera
+9199328*****
7-Jan
Amazon Fire TV Stick
Aditya Kumar
+9181057*****
8-Jan
Rs.5,000 Amazon Pay balance
Sameer Kumar
Harshida K
Mohan Suthar
Anil
Harshitha
Gautam
Manish Kumar Singh
Dharmendra Kumar
Avinash R Vishwakarma
Eugine Toppo
+9198100*****
+9196015*****
+9191378*****
+9199866*****
+9188675*****
+9198721*****
+9195040*****
+9197714*****
+9170226*****
+9170500*****
9-Jan
Vivo V11 Pro
Vandana
+9199880*****
10-Jan
Sony 5.1 Soundbar Home Theatre
Komal
+9173403 *****
11-Jan
Rs. 10,000 Amazon Pay balance
Shumila Shah
Ravindra S
Srikar
Suraj Thakur
S.nageswararao
+9188261*****
+91973 11*****
+9199850*****
+9183808*****
+9170754*****
12-Jan
Yamaha Acoustic Guitar
Abhi
+9190821*****
13-Jan
BlackBerry Key2
Dinesh Choudhary
+9191688*****
15-Jan
Sony Alpha DSLR Camera
Lathikakumari Kl
+9194471*****
16-Jan
Mi A2
Pratyush
+9175070*****
17-Jan
Saregama Caravan Music Player
Sudhir
+9191498*****
18-Jan
Rs.50,000 Amazon Pay balance
Kamal Singh
+9198186*****
19-Jan
Sony Portable Party System
Murtaza
+9189496*****
24-Jan
Fitbit Ionic Smartwatch
Shubham Agarwal
+9198020*****
25-Jan
Rs. 10,000 Amazon Pay balance
Manisha Borkar
Apurbosarkar
Shailesh Kumar
Jagdish Ram
Vipin Kumar
+9197669*****
+9195143 *****
+9196353 *****
+9198035*****
+9194552*****
27-Jan
iPhone Xs
Mohammad Masiullah
+9194516*****
29-Jan
Fossil Explorist Men's Watch
Sarika Goel
+9198113 *****
30-Jan
Samsung Galaxy Smartwatch
Anket Rakesh Pagdhare
+9192222*****
Amazon Today's Quiz Contest T&C:
This Contest will commence on 17th February from 08:00:01 a.m. (IST) to 12:00:00 p.m. (IST) ("Contest Period")
To be eligible for the Contest, during the Contest Period you must sign-in to or sign-up from an account on the Amazon.in App ("Amazon.in App").
Once you have signed-in to the Amazon, in App, you can participate by navigating to the page where 5 (five) questions will be posted during the entire Contest Period.
After that, if you answer all the quiz questions correctly, you will be entitled to a lucky draw which will be carried out amongst participants who have responded to that particular question successfully.
The draw of lots will be carried out during the Contest Period for the questions, and a total of 1 participant will be selected as winners by a random draw of lots.
The declared lucky winner will be eligible for winning GoPro Hero7.
So, Guys, this is our today's post all about Amazon Quiz I hope you have liked this post then do not forget to comment your thinkings below and also please share this post with your family and friends I sure they will say thanks for that 😉 and Thank you! for reading this article thoroughly.