No feeling is as painful as being cheated on by your husband. The fact that the trust and affection you had for him got thrown down the drain can be utterly disappointing. But making him realize that what he's done is wrong might give you some satisfaction.
But to make him realize his mistake, you need to have proof of infidelity first. Merely having doubts if he's continuously texting or talking to someone isn't sufficient since he can easily deny everything.
To find out for sure, you need a phone spy application that will help you collect evidence. With such an app watching his every interaction, you can know for sure if he's involved elsewhere.
Join us as we unveil a phone monitoring app that can solve your purpose easily.
Part 1: How to hack your husband's phone
Mobile devices hold the most intimate details of our lives. These access points for information can be of great convenience if you want to collect evidence of your partner's infidelity. All you need is a few minutes of physical or remote access to someone's mobile to configure monitoring spyware on it.
Once such an app has been set up, it can provide you complete access to the target mobile and allow you to collect information about who the target person talks to, who he texts, what he does on social media and more.
But in addition to offering rich features, such an app needs to be reliable, easy to use, and affordable. And most phone monitoring apps out there fall short on one or the other of those essential requirements.
Spyier is different!
A proven leader in the phone spyware niche, the app is extensively used across the world for personal as well as professional phone spying purposes. Read this post to know how Spyier can help you find out if your husband is cheating on you.
Part 2: Spyier: The best spyware application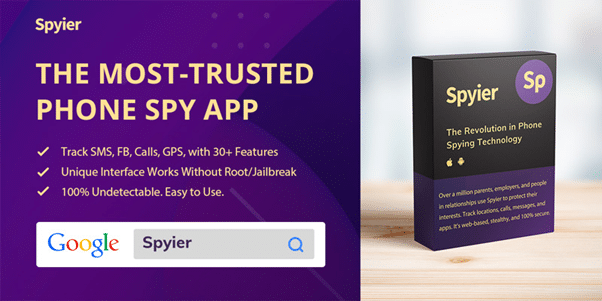 Spyier is identified as an industry-leading spyware application by millions of customers in over 190 countries. Being the most trusted spyware application of all, it has featured in almost all big tech magazines and journals such as Wall Street Journal, New York Post, BBC and Forbes, to name a few.
Offering remarkable features it allows users hassle-free phone monitoring from a safe distance. Some of the best benefits this app provides include:
Easy to use
To get started with Spyier, you don't need to have any prior experience with phone monitoring apps. It's so simple to use that even a non-tech person can set it up easily.
Anti-theft reliability 
With this app, the monitored data is absolutely safe. You don't need to worry about your personal pictures or videos saved on your husband's phone getting leaked. Spyier doesn't save any data on its servers, and thus, there's no chance of data theft.
Affordability
With a one-time subscription, you will get access to all 35+ features of the application. Offering great affordability, this mobile monitoring application will never burn a hole in your pocket.
Online monitoring dashboard
The monitored data is relayed to an online dashboard where it is neatly laid out in dedicated panels which you can access with a single click. You can log into the dashboard using any web-browser without having to install anything on your phone or computer.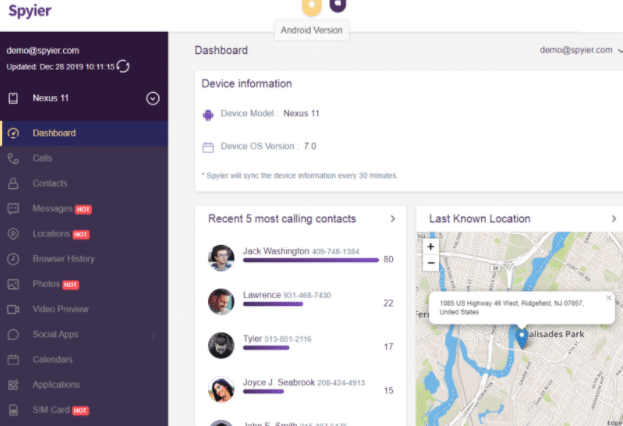 No rooting or jailbreak needed.
Unlike other phone monitoring apps, Spyier doesn't need you to root or jailbreak the target device to monitor it. Thus, it doesn't tamper with the device's internal settings or security and doesn't leave it vulnerable to malware.
Anonymity guaranteed
At no point does Spyier need you to perform human verification. Once set up, the app works in stealth mode quietly relaying all monitored data to the online dashboard. Thus, your target can never know you're watching his every move.
What more can Spyier offer?
Spyier offers features that have gone through rigorous testing to ensure optimal working. With this spyware in tow, you can monitor the following data from your husband's phone:
Live GPS Location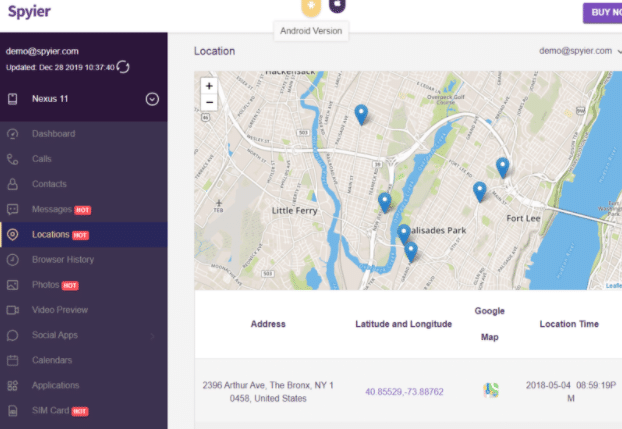 The GPS tracker feature lets you trace the exact location and travelling routes of your husband's phone at any time and anywhere you want. With this, you can easily check his whereabouts and figure out if he actually is where he's supposed to be.
Call and SMS with timestamps
Monitor the call logs and SMS to stay up to date with who he's talking to. Spyier lets you check the logs with time and date stamps to know when a conversation happened and for how long it lasted. It even lets you recover deleted messages and calls.
Social media activity
Whether it's Facebook, WhatsApp, Snapchat or Instagram, Spyier provides you real-time social media monitoring of your partner. You can see all the messages sent or received, along with videos and pictures shared with just a single click.
Web browsing history
This feature will help you check your partner's internet browsing history. If you're suspicious that your partner might be using some chat group or some dating website to interact with someone secretly, you can monitor the entire browsing history and find out everything you need.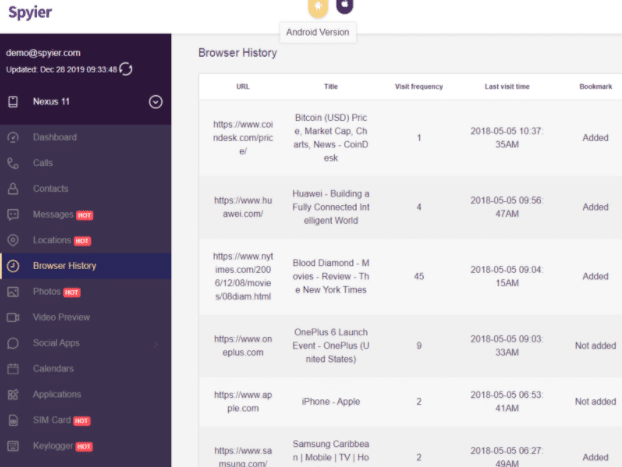 Part 3: How to monitor the husband's phone
To configure Spyier to work with a target device, you need to follow some easy steps. It is compatible with both iOS and Android platforms, and all you need is a working email address to begin.
Step 1: To begin with, please purchase a Spyier subscription. If your husband uses an Android device, please go to the Android pricing page, choose an appropriate plan, and click on "Buy Now". If he uses an iOS device, please go to the iOS pricing page to select a subscription plan.
Step 2: When you click on the "Buy Now" button, a window will pop-up where you'll have to enter your email Id. This will be used to register you with Spyier. After giving the Id here, click on "Buy Now" again.
Step 3: Once the purchase completes, you'll be redirected to the payment confirmation page. Here you'll see an auto-generated strong password and your login credentials. Please click on "Start Monitoring" here to begin monitoring setup.
Step 4:  Now, you'll be prompted to select the operating system of the target device. 
For Android, you'll need to access the target device for a few minutes. A download link will be provided to you via your email address which you will need to use to install a small application on the target device. The download is safe and processes very quickly.
Note: Once installed, the app can be easily hidden from the app drawer, so your husband will never know you're spying on him. 
If the target device runs on iOS, you'll need to provide the iCloud credentials used on it. Using these credentials, the app will sync with the iCloud backup. When syncing finishes, you will obtain uninterrupted access to real-time data in the online dashboard.
Step 5: Lastly, on the finish installation screen, click the 'Start' button to start monitoring the target device. 
To Conclude
Spying on your partner after finding out that he's cheating on you is not easy. But collecting evidence will help in confronting him. Spyier provides you with all the features and benefits that are needed to conduct a successful spying operation on your husband, without revealing your identity.