Facebook is amongst the top social networking platforms used by marketers to push sales and create brand awareness for their products and service offerings. In recent times, video advertising has gained more traction as viewers are readily streaming video content and prefer to watch the message rather than read it. The static Ads on Facebook have become uninteresting for the audience. They demand more creativity, audio-visual stimuli, and meaningful content, which can be aced by creating interesting Facebook Video Ads.
To curate Video Ads that look professional and stand out, marketers use various online and offline video editing tools instead of following the previous practice of outsourcing the job to an agency. Many excellent Facebook Video Ad makers do the job well and within minutes. We aim to focus on the best editing tools that can be used for your next Facebook Ad campaigns through this blog.
InVideo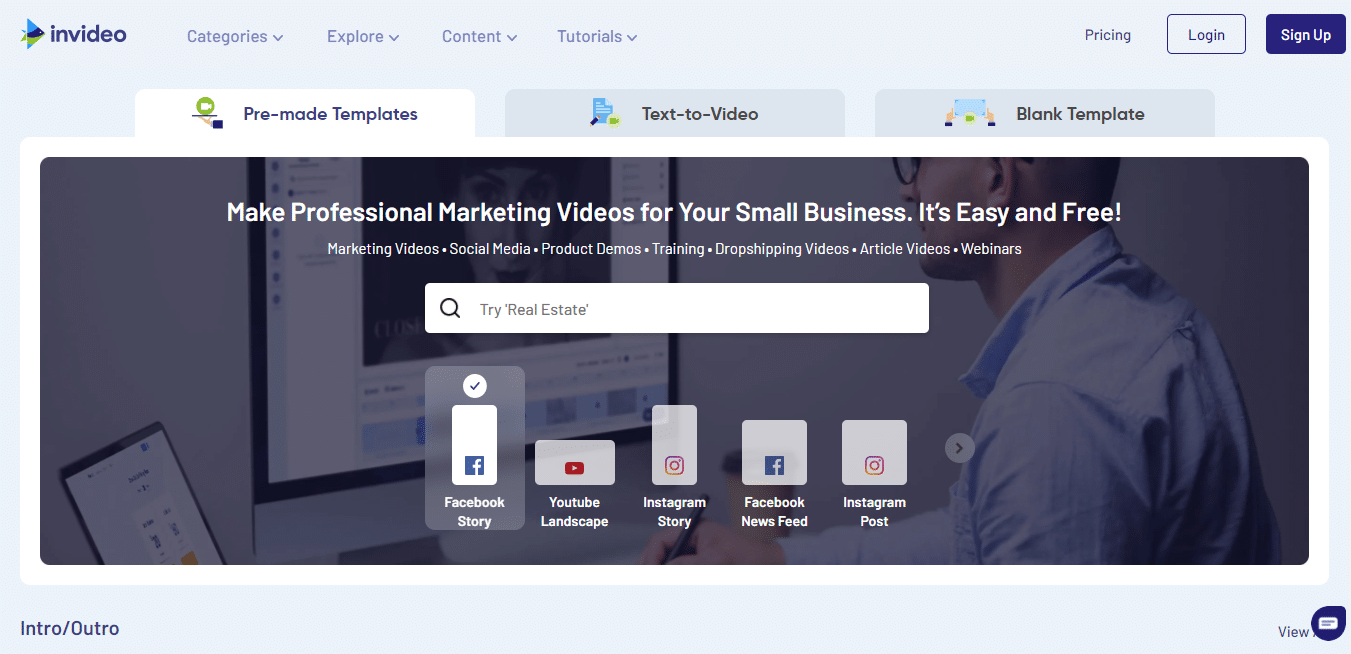 This online platform is a favourite for naive and professional editors who aim to create compelling video Ads on Facebook that instantly connect with the target audience. The steps to go about making the video Ads with InVideo are minimal. This user-friendly tool allows you to search for templates from its vast library by simply typing 'consulting,' 'clothing,' or 'events,' basically whatever your Ad wants to feature. Your customized videos will be ready in just 3 simple steps, which are as basic as; choosing the template, replacing media, and adding texts.  Even advanced level editing options are available for professionals by allowing them to create their own Facebook Ad designs right from scratch.
Features:
Over 3500+ templates focusing on different aspects of business, products & services
In-built library with 1 million+ royalty-free images and video clips to choose from
Multi-user editing avoids unnecessary delays in corrections & approvals
Automated text-to-speech and voiceover functionality adds authenticity to videos
Unlock the Business Plan at $5 per month, which gives access to; watermark free video downloads, unlimited user rights, and full access to video & image library
Lightworks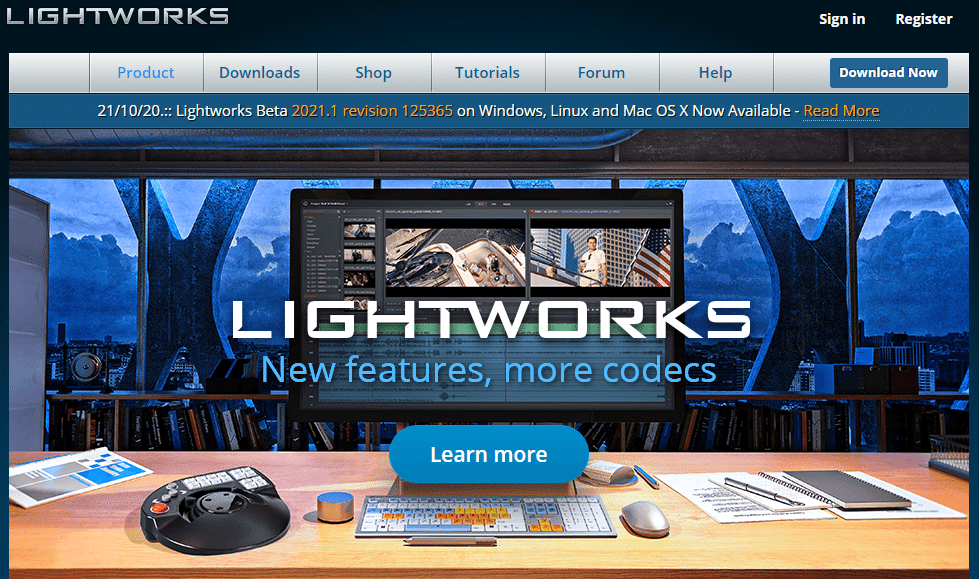 Lightworks is available on your Windows or Mac devices for free, but the Pro version is available at a premium. This tool is designed for editors who have a bit of prior knowledge about video making. Lightworks released its 2020 video package, which consists of all essential elements to conceptualize and execute Facebook video Ads that stand out from the crowd. Also, the multiple shot selection functionality works wonders for editing Facebook video Ads. Multiple sections can be selected and corrected together such that the common edit is applied to all sections at once, avoiding unnecessary back and forth.
Features: 
Ability to edit heavy-duty 4k resolution video clips and incorporate the same in Facebook video Ads
Auto-rotation of the raw video footage to fit the film as per the user's preference
Access to royalty-free audio and video content
Real-time uninterrupted usage available for audio & video VFX
Professional sequence grading possible with the usage of a powerful 32bit GB histogram tool
Lightworks Pro for Windows, Linux, and Mac OS X is available at $24.99 (monthly license), $174.99 (yearly license), and $437.99 (lifetime license)
Filmora9 Business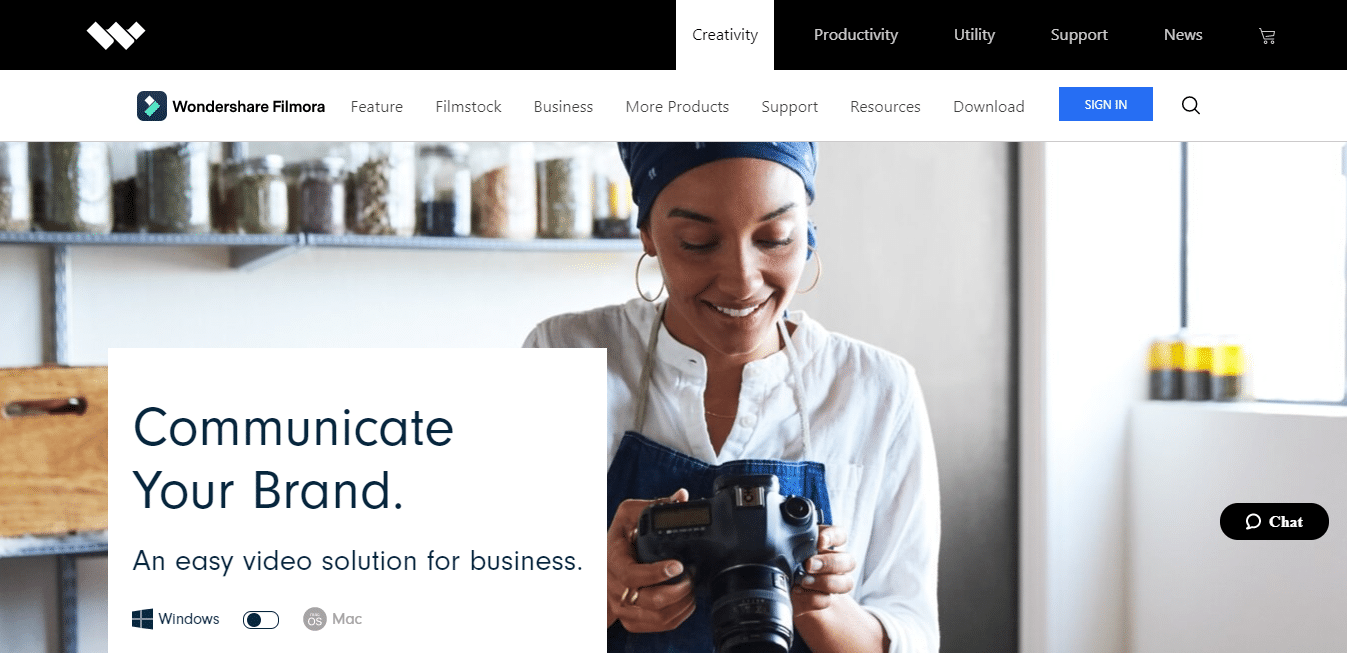 Wondershare Filmora's recent v9 for Business is yet another Ad creation platform. However, this is not an online tool, and one needs to download the paid version, which is compatible with Windows 7 or higher & Mac OSX 10.11 or more. It does a good job of providing opportunities for enhancing the overall Ad experience by providing editors with tools that eliminate unnecessary footage and focus all resources towards the main story. You can choose royalty-free music tracks from its audio library along with special effects, transitions, and animations. You can also upload your own clips and use the sound-cancellation option to do away with the background disturbances.
Features:
Possibility to create detailed Ads with up to 100 bits of layered media interwoven together
Special Green screen effect available for editing videos
Put together 4K videos with ease with fast rendering
Convenient & speedy process to save, import, and export video footage
Corrections such as fisheye distortion and shaky footage can be undertaken
Slo-mo or speeding up the clips up to 100x speed can be accessed through detailed speed controls
FilmoraPro is an upgraded version of Filmora9 with advanced features
The cost of purchasing FilmoraPro is $149.99 (lifetime subscription) or $89.99 (yearly subscription)
The final cut can be directly exported in the Facebook video Ad format and used as-is for your campaigns
Biteable
Biteable allows users to sign-up online on its website to use the tool. The main highlight of this platform is the library's mammoth size and the unending number of template options that one can select from. A separate Facebook section on the website features clips, themes, and animated templates in the desired Facebook approved video Ad format. A featured explainer video on the website takes the audience through a step-by-step process of creating distinctive Facebook Video Ads for the first-timers. The final output is achieved by binding together raw scenes, animation stock footage, and texts to create a fascinating 30 second Ad that hits the right spot.
Features:
Access to a whooping media source of 1.8 million images and clips.
An ultra-clear HD 1080p resolution capacity.
Pro animations from the exclusive Biteable Studio.
Unlock additional features with Biteable Premium that gives the advantage of custom watermarks and priority support.
The Plus Plan is available at $19 per month, which allows for single-user edits, and the Ultimate Plan allowing multi-user edit is available at $49 per month.
WeVideo
Create Facebook video Ads on-the-go using WeVideos. We are pretty impressed with the flexibility this tool offers. Who could imagine creating professional movies could be simply done by downloading the said version on Android and iOS devices and getting started! WeVideo supports whatever device you are comfortable working with, including your mobiles and notepads. The process of Ad creation pretty much remains the same. A subscription would give the users access to clips, images, and sounds, which can be incorporated in the Facebook Ad clip.
Features:
Supports editing of 4K Ultra-HD resolution videos
Apply square, vertical, and horizontal frames
Unlimited access to 1 million stock of royalty-free media
Multi-user editing license up to 3 users possible by buying extra seats
Unlimited cloud storage access on premium subscription and up to 20 GB on the basic one
Sound clips and background music selection from a vast selection of 125k repository
The basic subscription starts at only $4.99 for the Power Version and $7.99 for the Unlimited Version.
The Professional and Business packages cost $17.99 and $29.99 per month respectively. It includes full-access to 1 million pieces of licensed commercial media and additional brand management & collaboration tools.
Magisto
Magisto provides a blank canvas from which you can manipulate video Ad templates or put together out of the box, creative ideas that are truly unique to your brands. Its intuitive nature and custom feature make video editing an enjoyable process. Access to millions of HD stock footage and personalized background colour and font options, give the marketer the confidence to experiment in a way that wouldn't have been possible otherwise. The predefined aspect ratios automatically alter the clips in the desired Facebook video Ad format, either 16:9 for the landscape format or 1:1 for the square video Ad format.
Features:
Browse through 3+ million HD stock videos and 25 million photos.
Cloud Storage up to 5 TB available.
Video Analytics can be applied.
Convenient and direct export to the Facebook Ad manager.
Advanced editing through the Professional license can cost you $9.99 per month, and the Business license is available at $34.99 per month.
The difference between the Professional license and the Business one is that the Business License allows users to embed videos on any website, access video analytics, use the email marketing features, and get priority customer support.
MotionDen
This cloud-based Ad Maker allows anyone to create Facebook Video Ads in a hassle-free manner with little or no prior knowledge about editing skills. The tool offers multiple video 2D and 3D templates under different categories to choose from. The thematic Ad templates capture the essence of business & services, travel, events, real estate, and even sports, amongst other genres. These readymade templates are fully customizable, and one can add captions, logos, and styles to represent their brand and products. We bet it can't get any simpler than this. So, if it is your first time trying your hands on putting together a Facebook video Ad and you do not have too much of your own resources at hand, simply visit MotionDen. Choose your favourite template, customize it, and voila, your Facebook video Ad is ready to be posted.
Features:
Produces impressive HD quality videos
A wide catalogue of templates to choose from
Customizable design control panel
To get rid of the watermark and ultimately use the edited videos, one needs to purchase the rights to usage at a basic price of $9 per video.
The Unlimited Video plan is available at $39 per month and promotes additional features like; direct publish to YouTube, Full HD quality, and access to unlimited video edits.
Conclusion:
We hope that this blog helped you get clarity on the various online and downloadable Facebook Ad creation tools like this one here. It is now your chance to action stellar Ad campaigns that drive the audience to take the desired call-to-action and even make a direct purchase.